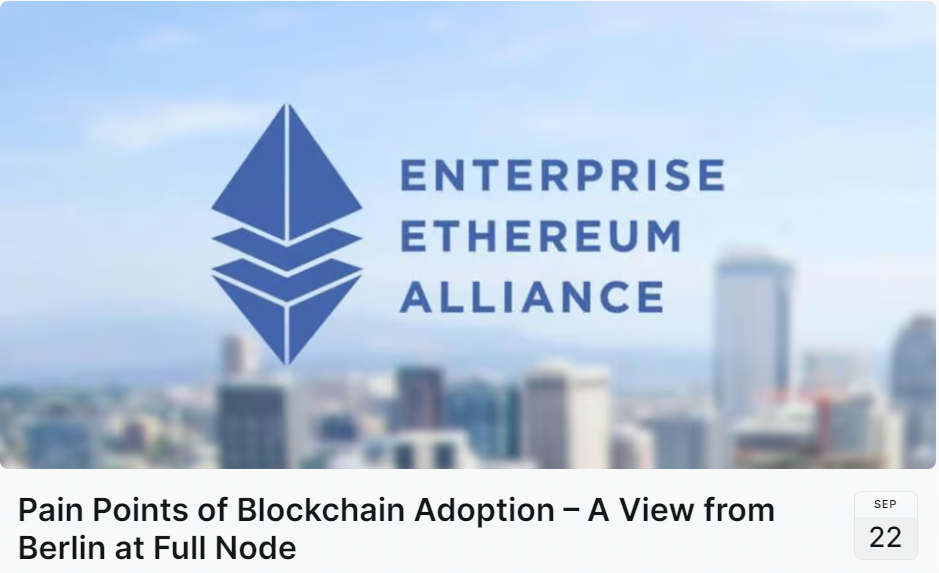 Pain Points of Blockchain Adoption – A View from Berlin at Full Node
22. September um 13:00

bis

15:00
Calling all Berlin Blockchain Businesses and Leaders. The Enterprise Ethereum Alliance (EEA) is coming to Berlin on its World Tour and would like to hear from you!
​Come meet EEA's Executive Director, Dan Burnett, to discuss real concerns, challenges and experiences about your business-use of Ethereum, or lack thereof.
​This is not the typical meet-up. No formal presentation from Dan. This is an informal, open and interactive session.  We truly want to hear from you to uncover the 'pain points of Blockchain adoption' from a Berlin perspective.
The EEA is the leading industry association focused on developing standards for and supporting the adoption of public Ethereum and the broader Ethereum ecosystem for businesses. Founded in 2017 by a number of large corporations and blockchain startups – including JPMorgan, Microsoft, ConsenSys and the Ethereum Foundation (with companies like Palm NFT Studios and EY Blockchain having more recently joined theEEA Board) – it has evolved into a broad-based, member-driven organization promoting the use of Ethereum as a business platform by all businesses large and small.
Teilen!